When you set the temperature on your thermostat to, say, 75 degrees, you expect it to reach 75 degrees, right? It can be annoying when you set your thermostat to a certain temperature but your heating and air conditioning unit can't seem to manage to reach it. Believe it or not, this is actually more common than you think, especially during cold weather, though this doesn't necessarily mean that you have a broken unit.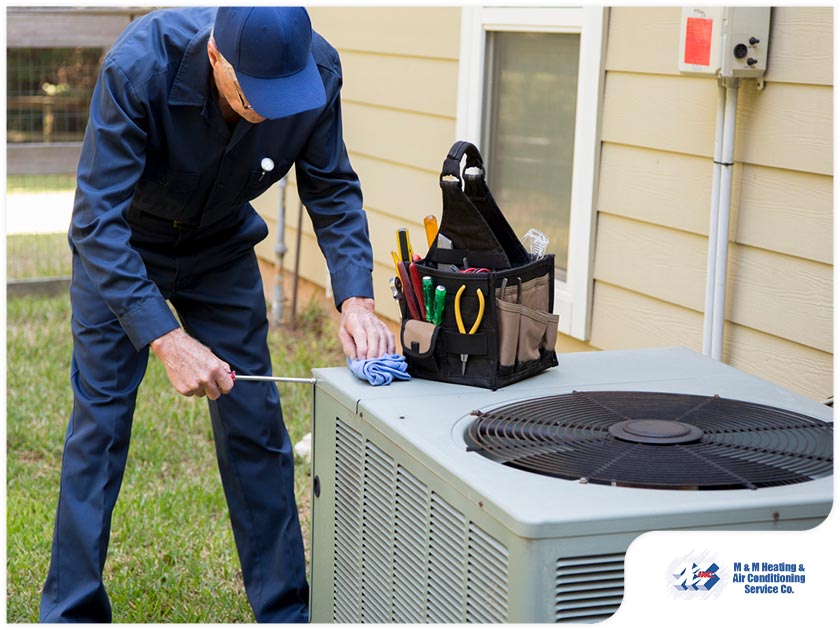 In today's post, M & M Heating & Air Conditioning Service Co. explains why this happens and why you shouldn't panic just yet.
What's Going On With Your Heat Pump?
When the temperature outside dips below a certain number, your heat pump has to work harder, which lowers the overall efficiency of the unit. It simply can't keep up with the heat loss from your building, so it's not able to reach the desired temperature.
Fortunately, most common problems associated with heating and AC units are easily fixed without having to bring in a repairman. Here's what you should try before calling in the pros:
Check to see if your outdoor unit is iced over. During extremely cold weather, it's not uncommon for your outdoor unit to be covered in snow and ice. If this is the case, simply run the defrost cycle and this should fix the problem.
Make sure cold air isn't entering your home. Sometimes so much cold air is let in from outside that heat pumps struggle to keep up. Try minimizing this by making sure all your windows and doors are tightly closed in order to keep chilly air out and cozy heat in. Your heat pump will thank you for this!
Check if your vents are closed. It may seem silly, but sometimes something as simple as forgetting to open your vents can cause your heat pump to fall short of the set temperature. Do a quick check and make sure that all your supply and return vents are open to allow heat to circulate evenly around your house.
If you've tried all these fixes but your heat pump still isn't reaching the desired temperature, be sure to give central air conditioning unit and heating system pros M & M Heating & Air Conditioning Service Co. a call at (209) 952-6580 or fill out our contact form to schedule an inspection with one of our skilled technicians.