Many homeowners rely on a central air conditioning unit to keep the indoors comfortable throughout the warm months. A central air conditioner cools the entire home, so a problem with the unit can greatly affect your comfort. It's important to understand how it functions because this can help you deal with HVAC problems better and make wiser decisions when managing a repair project.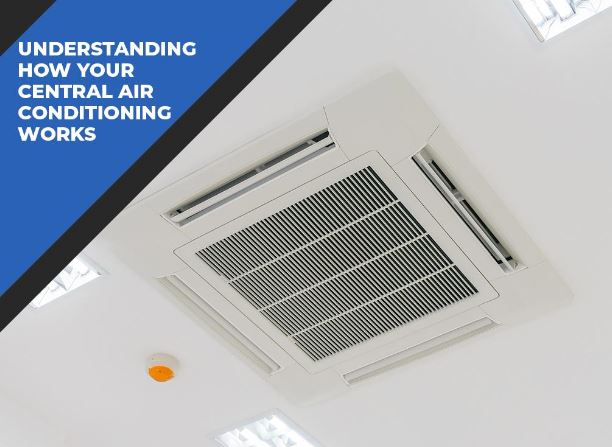 M & M Heating & Air Conditioning Service Co. explains how a central air conditioning works.
How Central Air Conditioning Keeps You Cool
In a split-type central air conditioning system, the unit has two main parts: the outdoor unit, which contains a condenser fan, compressor and condensing coil, and the indoor unit, which contains the evaporator coil. The system works by taking advantage of the fact that when liquid turns into a gas, it absorbs heat. Air conditioners use a refrigerant, which is a compound that turns from liquid to gas at low temperatures, allowing the system to absorb heat from inside your home and transfer it outdoors.
When you turn on your air conditioner, the refrigerant begins to flow through a closed system of refrigeration lines between the indoor and outdoor units. A motorized fan then pulls warm air inside your home into the ductwork. The refrigerant is then pumped from the compressor coil to the evaporator coil where it can absorb the heat. The now cool air is then pushed through vents, cooling your home. Meanwhile, heat is released outside your home and the refrigerant condenses back into a liquid, allowing the cycle to start again.
Keeping Your Central Air Conditioning in Good Shape
Rather than dealing with problems as they come up, we recommend preventing central air conditioning problems before they even begin. You can start by scheduling regular professional HVAC inspections and maintenance. This can greatly reduce the risk of a system breakdown. You can try changing the filter on your furnace's return air duct regularly and cleaning the cooling fins of your system's outdoor unit.
The Leading HVAC Expert: M & M Heating & Air Conditioning Service Co.
M & M Heating & Air Conditioning Service Co. is the number one company to call if there's a problem with your central air conditioning. We've helped homeowners for over 40 years and we employ only NATE-certified technicians. We are also a Carrier® factory-authorized dealer and we have an A+ rating with the Better Business Bureau.
Contact us here or call us at (209) 952-6580 to learn more about central air conditioning units.